Excel Sales Performance Dashboard
Track sales performance with the help of a
sales dashboard in Excel
. A sales performance dashboard makes it easy to track key performance indicators and other information that are vital to your sales team. See in this article some examples of sales performance dashboards.
Sales Dashboard
Get a quick overview of sales with the help of the Sales Dashboard. The clean interface includes data for total sales, your target, percent of target reached, and the difference. This is a fast and easy way to find out if your team is under or overperforming.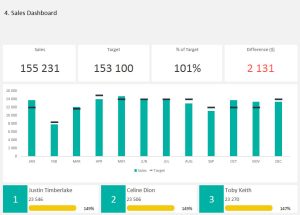 Sales Team Dashboard
You need to monitor your entire sales team, especially if there are going to be sales rep openings in Chicago and other locations, so the Sales Team Dashboard is a must. This Excel sales dashboard provides an overview of each member of the team. Find out how each person is performing, and see if your team is reaching its goals.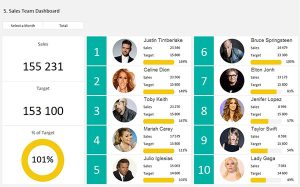 Top Salesperson Dashboard
You want to reward your top salespeople, and that means you need the Top Salesperson Dashboard. With a quick glance, you can see your top five salespeople. See how many sales they've made and how far they've exceeded the target. This sales performance dashboard makes finding your top salespeople a cinch.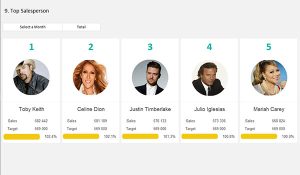 Sales KPI Dashboard
The Sales KPI Dashboard is an excellent tool for tracking the performance of various KPIs. The sales KPI dashboard provides an overview of the total sales, the average commission rate, total commissions, total deductions, and the commissions payable. Easy-to-interpret graphs show if you've reached your target, and you can easily see if your sales team has performed above expectations. This sales KPI dashboard will help your team stay on track from one month to the next.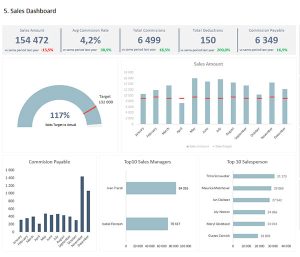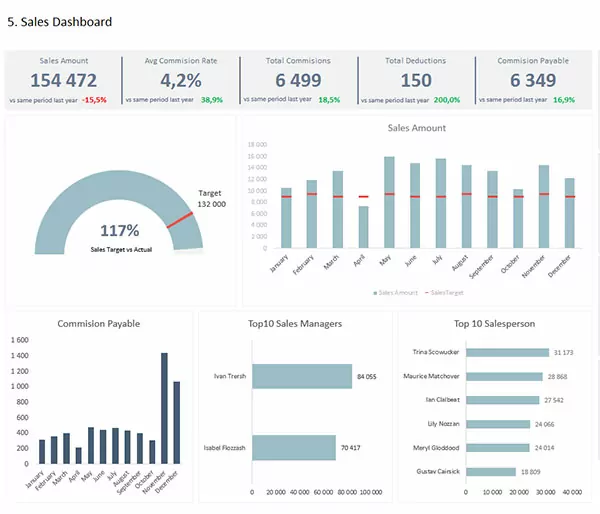 Let a Sales Performance Dashboard Help Your Team
Data plays a vital role in sales. You need to stay on top of the data to motivate your salespeople and to reach your goals. Download one of these sales performance dashboards, so it can guide you as you reach your sales goals.