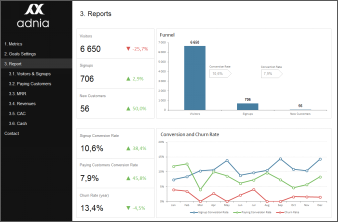 Google 'SaaS metrics'; you'll be bombarded with lists of KPIs to track for business growth. Our SaaS metrics template offers 51 of the most important metrics-you only fill out 19 and we do the rest.
Not every metric will be useful for your SaaS startup as there are so many SAAS options to choose from. However, there are some that can help you gain valuable financial insights. As a business owner, it can be difficult to understand the financial insights of your company, which is why some SAAS options might be useful. However, if you'd rather someone else dealt with your financial insights, it might be worth looking for a startup cfo to give you some help with your business finances. This can be particularly useful for new businesses that may not be fully confident with their finances just yet.
Use strategies that can help you acquire, retain and monetize customers similar to when something like SEO saas is used. This should be your major strategy for a sustainable business.
Why choosing the right metrics is important?
Your startup depends on recurring revenue. You earn as long as the customers continue subscribing for your software product.
As your business grows, your goal shifts from acquiring new customers to retaining the ones you already have. So, your focus should be on metrics that inform you about customer retention and churn rate.
If you use a lot of metrics, you will likely lose sight of important data.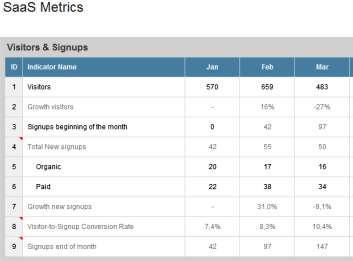 You might get into easy-to-track metrics that don't provide much information.
Discern what's important for your business at the current stage. In the start (Stage I), acquiring new customers may be more important. You will want to keep track of signups. One of the six dashboards in our template deals with important metrics related to visitors and signups.
Once you're past this stage, your customer base must grow with time. Your goal now (Stage II) is to improve monthly recurring revenue (MRR) and reduce the churn rate to less than 2%. Acquiring new customers will not support your business unless you have a low churn rate.
Finally, for businesses that are working well (Stage III), improving acquisition cost and lifetime value is important. You will particularly want to track these metrics. Use the insights gained to implement futuristic marketing and sales strategies.
Make sure you track the right metrics as your startup grows. This will make sure your business earns enough revenue to survive. The revenue that you earn will go back into your business to invest in important services to keep it going, it will also go to your employees, this can be done very dynamically by using software like Cloudpay to pay them on time and from wherever you are.
Easy tracking with our ready-to-use template
Our Excel-based SaaS template offers a simple way to track all these metrics! You can measure your startup's performance, gain actionable insights, and keep your employees and partners informed.
The KPI dashboard comes with pre-defined indicators. You have to simply fill out the necessary data and leave the calculations to us. It's a simple Excel spreadsheet-easy to use and comprehend. The template is ready for download right away.