Books to create better dashboards
7. Books to Create Better Dashboards
Dashboard design is an integral process that allows dashboard creators to communicate key metrics and KPIs in a straightforward way if done correctly. Its also important for comprehension, emphasizing the purpose of this system and providing stakeholders with value for money. However, dashboard design can be quite tricky, so you need to continuously learn about it to stay ahead and impress your clients.
One way to expand your knowledge of dashboard design is by reading all of the latest design and technology books. However, there is a chance that your own understanding of dashboard design might actually surpass some of the content within the books we are about to recommend.
Consequently, if you have always dreamed of writing a book about dashboard design, now could be the perfect time to publish your very own guide. There are plenty of fantastic literary agents out there that specialize in design and technology books so do not be afraid to reach out to a few different publishing companies if you have an idea for a book that you think could go all the way.
That being said, for now, the following four resources are considered the top books on dashboard design, so get hold of them and start expanding your knowledge on this topic.
#1) Information Dashboard Design: Displaying Data for At-a-Glance Monitoring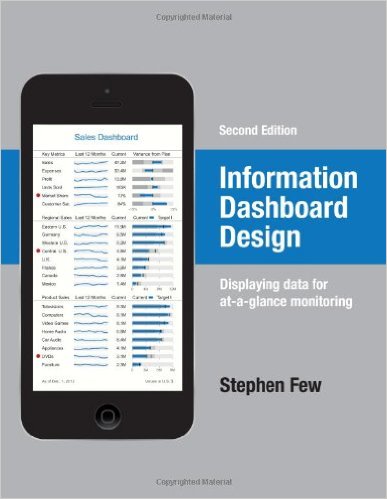 A highly recommended book for information designers and dashboard designers focusing on the visual display of data, this book by data visualization expert Stephen Few highlights some of the common problems of dashboard design and the best practices that could prevent this issue. However, in addition to covering how to design dashboards, Information Dashboard Design goes deeper in the concepts rooted in brain science. Further making this a great read are the in-depth instructions, examples of well-designed dashboards, and critical steps that should be followed during the design process.
#2) Show Me the Numbers: Designing Tables and Graphs to Enlighten
Another great Stephen Few book. The author explains in this book how critical numbers that help organizations identify opportunities, create forecasts and measure health can be misrepresented due to designers inability to design accurate, informative materials. In addition to providing concrete solutions for this issue, Few offers practical steps to properly create tables and graphs that facilitate effective communication. Even if you have read this book before, consider reading the revised edition to discover the new chapters on quantitative narrative and misuses of graphs.
#3) The Wall Street Journal Guide to Information Graphics: The Do's and Don'ts of Presenting Data Facts and Figures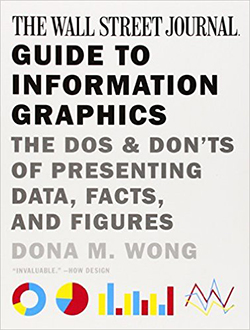 Authored by Dona Wong, formerly the business graphics editor at The New York Times and head of the graphics department at The Wall Street Journal, The Wall Street Journal Guide to Information Graphics explains how professionals should express themselves effectively through graphics in today's data driven world. The book is organized in a series of mini workshops, each of which deals with important subjects such as choosing the best chart according to data, communicating effectively and quickly with decision makers, and using colors and black and white in graphics.
#4) Beautiful Visualization: Looking at Data through the Eyes of Experts (Theory in Practice)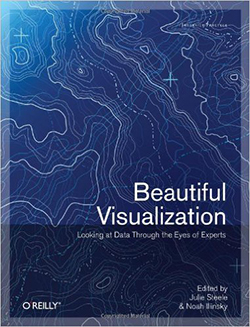 Julie Steele, an editor at O'Reilly and author of books on CMS, databases and data visualizations, combined the methods of 24 visualization experts who approach projects as designers, commentators, analysts, etc. Through Beautiful Visualization you'll explore the importance of storytelling, learn the influence of colors in conveying information, and find out how researchers investigate different phenomena. As each of these books has a unique perspective, make sure to read them all to improve your grasp on dashboard design and really establish your name in this competitive industry.