Make Spreadsheets Great Again!
Microsoft Excel is the most used software on the planet with countless Excel tutorials and resources to try to get more knowledge on the program. Walk into a microenterprise, a super corporation or a freelancer's office and you will probably see it on the computer. It's used by just about everyone, from accountants to sales teams. It's so popular because it can handle everything from simple client lists to complex data analysis.
That popularity comes at a price. Software companies view it as a top competitor, and they do what they can to take it down. The simple Google search "stop using Excel" will net you more than 17,700 results. Most of these results are articles written by software companies. Ironically, almost all these companies sell software with a feature to export data to Excel.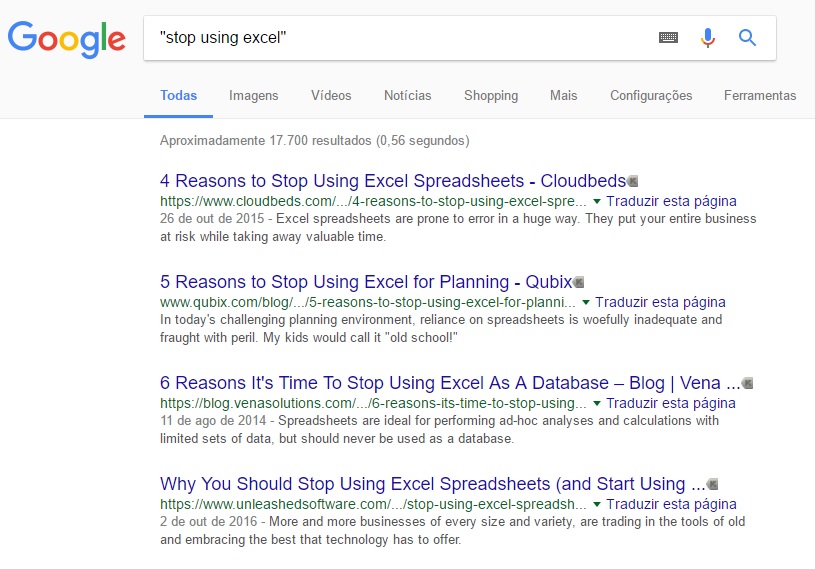 Why is Excel so popular?
Excel is extremely flexible and offers some impressive add-ons, such as Power Pivot and Power Query. These, together with established tools like Pivot Table, VBA and Macros, make Excel the go-to software for data analysis.
Of course, Excel isn't perfect. Some of its features are extremely complicated, requiring an advanced database and programming knowledge. Turns out that it's not as straightforward as initially thought. To be able to make the most out of the extensive list of benefits that Microsoft Excel has on display, a certain level of experience in navigating its system might be required first. Some people may have even sat something like the mta 98-364 exam just so they could get a headstart in learning about these databases. It can open your eyes to a whole new world concerning Microsoft and its subsequent programs, especially Excel. Excel is not a design tool and correctly presenting information isn't easy if you don't understand data visualization and design. It may be a lot easier once realizing that the use of something like a line graph could help make the visualization of data a lot easier to manage. In all honesty, spreadsheets are not the most exciting things to look at.
To put it another way, Excel is a great tool, but some of its functions are difficult to use. To work around this problem, our spreadsheet templates are designed to help you save time, improve business processes, and impress your audience with top quality professional templates that maximize the business value from Excel.
Our Spreadsheet Templates
We develop creative solutions using Microsoft Excel, but we employ the same concepts and logic used to develop software, web sites and BI applications. All the user has to do is enter their data and the template takes care of the rest- like calculating indicators and generating graphs, reports and dashboards. The end-result is a simple-to-use Excel spreadsheet.
Professional, Simple and User-Friendly
Simplicity is one of our guiding principles when designing templates. We've noticed that many software users are frustrated by the enormous number of complex functions that make software and web applications more expensive and harder to use.
Our templates are easy to use and intuitive, like a website that you are accustomed to using every day. For example, all our templates contain a numbered side menu that helps the user move between pages and follow the steps in the correct order.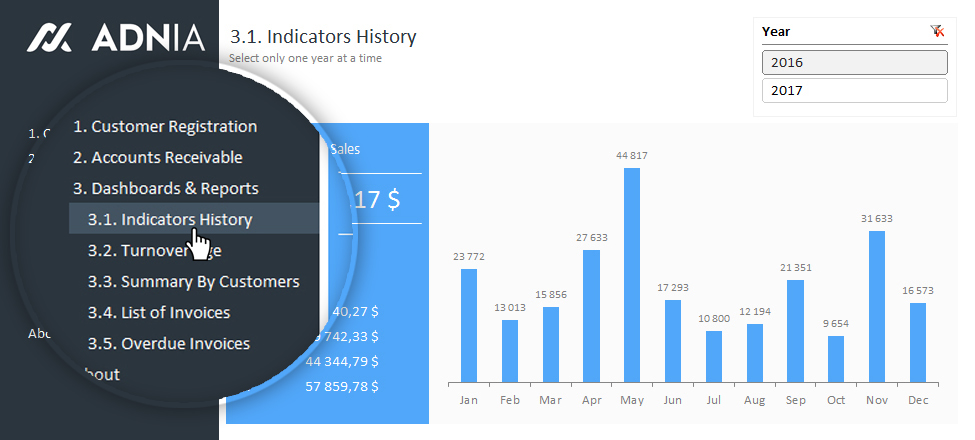 Memorable Design
Spreadsheets don't have to be ugly or bland! We follow the principles of data visualization when designing our templates and dashboards. That way, we are able to create something memorable for our customers and also for the customers of our customers. We want you to be proud when you share your date with your customers or team.
In addition to creating beautiful graphics and using a great color palette, our templates are functional. The challenge is to display the most important information in the correct way, so that the user can easily understand the history behind the numbers. Our designs go beyond good looks!
Like a Software
Our templates are designed to increase productivity and reduce errors. Data, such as customers, employees, suppliers and products, are entered on a specific sheet – Once! This information can be retrieved on the main sheet from a drop-down menu. This feature saves time and, since you don't have to replicate your work, you're less likely to make mistakes.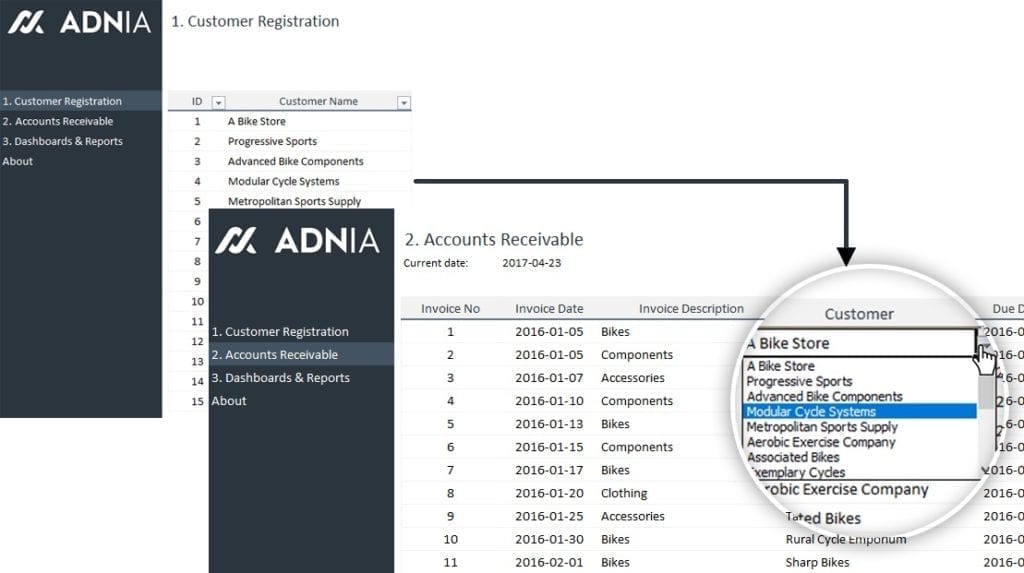 Multiple languages
Many of our templates are available in English, French and Portuguese. Simply select your preferred language on the Settings page and the template will be displayed in that language. You can also manually translate the template into another language. We are working to upgrade all our templates to Multi-language.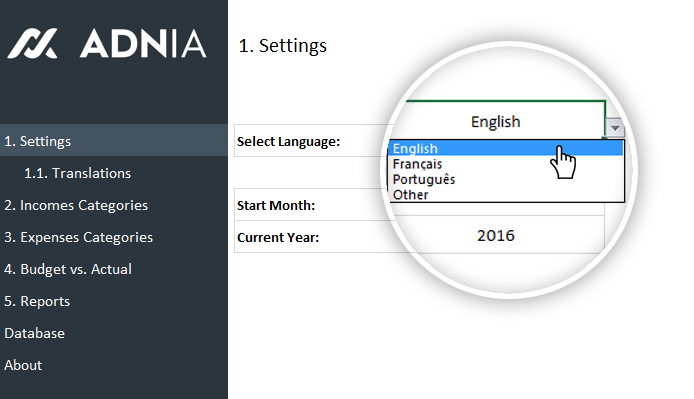 Behind the spreadsheet templates
Adnia Solutions is a division of Adnia Consulting Services, a Canadian firm specializing in business intelligence. Our BI Adnia Specialists help to develop Adnia Solutions products and that make it possible for any company or professional to use affordable business intelligence solutions.